Planning for Your First Day at School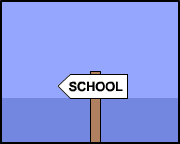 On the first day of school, the secret to success is in the planning, not the pedagogy. How's your back-to-school planning going? Have you forgotten anything? Our checklist can help!
Included: Online resources for a variety of back-to-school planning needs, including welcome letters, bulletin board ideas, and back-to-school activities.
It's official. You're a teacher! You aced all your education courses, know the subject matter backward and forward, can rattle off the names and philosophies of dozens of educational theorists, and achieved a pretty respectable score on the state certification exam. You finally have an actual job and an official class list. There's only one problem. The first day of school is drawing near and you have no idea what to do. Are you really ready to face that first terrifying day?
The secret to success in any new endeavor is planning. But for this particular endeavor, don't just plan,
over plan.
Don't just prepare,
over prepare.
Don't just write enough lessons plans to fill one class or a single day. (They never do!) Write
more
than enough!
When it comes to planning ahead, of course, the secret to success is in the details. Use the checklist below to help you with any details you might have overlooked in planning for your first day at school
as the teacher.