You want to know the extent to which student bullying is occurring in your school, and whether your prevention efforts are making a difference.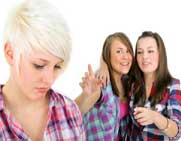 Sounds easy enough. But with multiple options available, it can be challenging to choose a survey instrument that produces the right data to inform decision-making.
Through collaboration with The Governor's Prevention Partnership, EducationWorld is pleased to share a handy printable that compares major student surveys on bullying and school climate, helping you to select the instrument that best meets your needs. (Need more on bullying? Don't miss EducationWorld's extensive archive of bullying prevention resources.)
Before you review available surveys, ask yourself the following:
Do you want to compare your school data to statewide or national data? If so, you'll want to make sure that the questions is your survey ask about--and define--bullying behavior in the same way as the state- or national-level survey. For example, asking whether students have ever been bullied will yield higher frequencies than asking whether they have been bullied in the past 30 days. Likewise, asking separately about teasing, threats of physical harm, racial slurs and social exclusion is different than asking a question that simply uses the all-inclusive term "bullying."

How much detail do you want about the kind of bullying going on in your school? The number of questions specifically about bullying varies from survey to survey and ranges from two general questions to more than 50 highly specific questions covering everything from the reasons for the bullying (homophobia, racism, physical appearance, etc.) to how other students react when witnessing bullying. (On the other end of the spectrum, some surveys ask about various types of peer cruelty, but never use the word "bullying.") If cyberbullying is a concern, make sure the survey you choose covers this issue. In general, make sure the survey will yield enough information to be actionable.

TIP: The Canadian Public Health Association's free Assessment Toolkit for Bullying, Harassment and Peer Relations at School offers the most detail on bullying behaviors. See the survey guide for more information.

Consider what you need to know about bullying other than the behavior itself. What are bystanders doing or not doing? Do targets of bullying feel that their reports of peer cruelty are, or will be, taken seriously by adults in the school? Do targets feel supported by the school community? Sometimes following school bullying prevention efforts, the bullying rate will be slow to decline, or can even temporarily increase due to increased awareness of the issue. You may therefore want your survey to track student perceptions related to bullying--these often shift in a positive direction more quickly, and can demonstrate the early effectiveness of prevention efforts.

Have you considered school climate? Bullying should be considered a symptom of the larger problem of poor school climate. It therefore makes sense to track bullying alongside school climate, a construct which includes students' sense of safety, connectedness and belonging. Keep in mind, however, that surveys covering bullying in great detail tend not to tap school climate very well. Likewise, instruments that expertly capture the big picture of school climate tend to not cover much in the way of bullying specifically.